Commissioner Ylva Johansson called these practices "shocking and unacceptable." "Member States must investigate these allegations and take action where necessary."
An investigative collective of several international media, including the Dutch KRO-NCRV program Pointer and research collective Lighthouse Reports, has found new evidence showing that migrants along the land border are sometimes literally beaten back to the country they just came from, for example in EU member state Croatia. Aid organizations have long been sounding the alarm about the pushbacks.
Masked men
Among others, Pointer and the French Libération published images of masked men beating migrants across the border into Bosnia and Herzegovina in Croatia. According to the program, this is the first time the pushbacks at this location have been filmed at high quality.
Pointer claims that the men using force are Croatian agents. This would be evident, among other things, from the jackets they are wearing; these correspond to the undergarments of the Croatian police uniform. This is also confirmed by a Croatian former police officer, writes Pointer. The research collective also analyzed images of pusbacks at sea near Greece. On it masked men can be seen, according to the researchers these are Greek elite units of the coast guard.
In this excerpt from the program Pointer, the masked men can be seen using force against the refugees: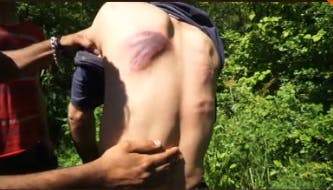 Masked men use heavy force in pushback in Croatia
EU Commissioner Johansson consults with responsible Croatian and Greek ministers tomorrow. Greece's Migration Minister has already denied the allegations. "Greek borders are EU borders and we act within European law to protect the borders," Minister Mitarachi said in a response. The country has also always denied previous accusations.
Croatia says a special investigation team has already been assembled. "The team is already working to investigate what happened, where it happened and who contributed to it. There are many questions that need to be answered," said Croatian Interior Minister Bozinovic. The country has previously commissioned similar investigations and concluded that there is no evidence that the police have misdeeds on their conscience.
Read here how correspondent Mitra Nazar spent two days with the Turkish coast guard last year, eager to show what they see happening at sea.